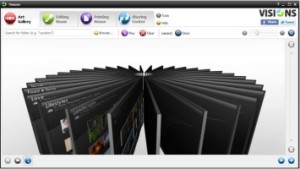 Some people may have a lot of images and photos stored into their computers. Sometimes it may be quite difficult to manage them all. If you are looking for a new way of managing the images stored in your computer, you can use the Visions Image Manager and Editor for a change.
The Visions Image Manager and Editor is an innovative 3D image management system (3DIMS). It allows users to manage their numerous image folders using a unique 3D interface. It is a departure from the usual Microsoft Explorer-style view of image folders. Using Visions, people have the means to manage to manage their images and photos using various 3D layouts- Cylinder, Wheel, Vertical Horizontal Wheel and so on. Each folder is usually represented by a board, which also displays the thumbnails of the photos it contains. Users can go through each folder by a spin of the mouse wheel.
But that is not the best feature that Visions may have. What makes it even more useful is that it comes with a built-in image editor that allows users to apply the common fixes, effects and adjustments to any image. It also comes with a set of desktop publishing templates that lets users present the images and photos in various formats. Users can have the option of creating greeting cards, photo books, calendars and many other display formats out of the images they have. The software also makes it easy for users to upload photos and images online. What's more, the Visions Image Manager and Editor software is available as a freeware. You can download it for free at twins-solutions.com.
Image Source: Twins Solutions
Computing Technology – GuideTo.Com